How to get a hold of the Sonic Anime in the US
If you are interested in purchasing the original video versions from Japan, I suggest you try contacting Asahiya Bookstores, which are specialized in this. The address is
Asahiya Bookstores, USA Inc.
333 So. Alameda St. #108
Los Angeles, CA 90013
(213)-626-5650

Addresses in other cities are available on their homepage at http://www.dashtaisen.com/shopasahiya.html.
---

Also, ADV Films is going to release an English dubbed version of the Anime in September, called "Sonic the Hedgehog: The Movie" for a retail price of about $ 19.98, with both episodes on one VHS tape (multi-lingual DVD version $ 29.98).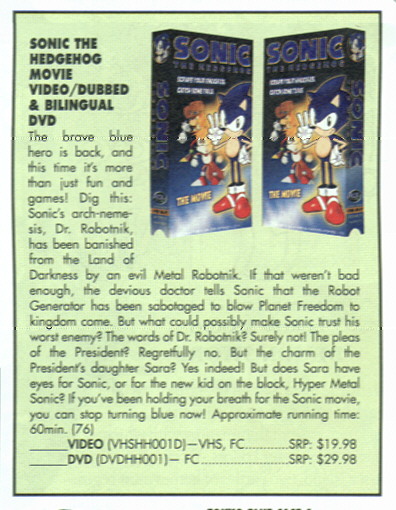 The official press release can be found at
http://www.advfilms.com/advhome/catalog/newcatitem.html?c=u&k=hh001
Here are a few other sites that you could try if you want to purchase the Sonic Anime, in both NTSC or PAL:
Anime Palace
AsiaFan (German Distributor)
Tsunami
---

If you don't want to use any of the above options, then you could try downloading the Anime episodes from certain Sonic Fan Pages in MPEG, AVI or .RM (RealMedia) format. Those are the complete episodes, but note that the amount of data will be _huge_ (except the RealMedia versions, of course).
For MPEG versions, try:

http://segasonic.net/sanime.htm

For AVI versions, try:

For RM versions, try:
Alas, I don't know how many of those links are still valid, so you have to try them all out one by one. ;) Or simply do a Web Search with any of the Online Search Engines.
---
Back to the Sonic Anime Page.